Board of Directors
The Centre for Canadian Language Benchmarks is governed by a nationally representative, multi-stakeholder board of directors.
Chairperson
Souhaël Bouallagui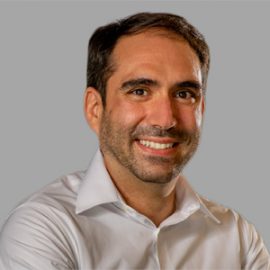 Souhaël Bouallagui has been the Director of Customized Training Division and French as a Second Language at Université Sainte-Anne in Nova Scotia since 2017, where he is also the Director of Department of Education Sciences.
He holds a Master's degree in linguistics and language didactics, and he has been working in the field of adult language education since 2007, first in Europe and then in Canada.
Although teaching remains as his greatest passion, through his role at Université Sainte-Anne, Souhaël is currently responsible for the administrative management of academic departments, the development of new programs and the supervision of projects such as the CLIC centre at the university.
Out of keen interest in languages, Souhaël joined the Board of the Halifax Languages Consortium and that of the Centre for Canadian Language Benchmarks. He is the Vice Chairperson of CCLB Board of Directors since 2021.
Vice Chairperson
Diane Hardy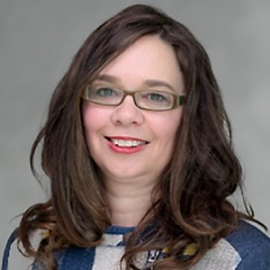 Diane Hardy is an associate dean in the School of Global Access, Bow Valley College in Calgary, Alberta. She has over twenty years of experience in the field of English language learning and post-secondary education. She has worked as a program coordinator, project manager, and English language instructor. She has been responsible for program management, curriculum development, teacher training, online learning, innovative programs, and applied research projects. Diane is committed to academic excellence, and is a recipient of the Bow Valley College Awards of Excellence for Faculty, the Canada Post Community Literacy Award for Educators, and Calgary Learns' Life of Learning Awards for Designer/Director. She is a past President of Alberta Teachers of English as a Second Language. She has also worked in the private sector and has professional experience in the areas of marketing and communication and fund development.
Secretary-Treasurer
Yves Page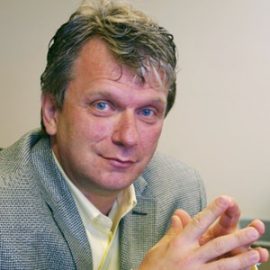 Yves Page has a vast professional background in both manufacturing and corporate management, with over thirty years' experience of helping small, medium, and large companies improve their bottom line. In 1998, he founded GEMS Consultants Inc. in Moncton, New Brunswick. As a corporate advisory service company, GEMS offers small and medium-sized enterprise (SME) owners the necessary navigation tools to fully comprehend their state of business and to realize desired business objectives. Specializing in business start-ups, consulting, training and more, Yves and his dynamic team strive to offer affordable, flexible, and professional services across the Maritimes, Canada, and internationally.
Yves has been a member in good standing for over 30 years with the Association of Professional Engineers of New Brunswick (APENB). He has also sat on various boards in different roles, including former President of the Verification Committee (Caisse Populaire Beauséjour), Secretary of the Executive Committee – Board of Directors (Caisse Populaire Beauséjour), Vice President of Moncton Minor Hockey Association (MMHA), Coordinator of Volunteers (2010 World Junior Games – WIIF), and Regional and Provincial Judge (School Chess Tournaments).
With such knowledge and experience, Yves has proven his ability to quickly grasp the problems that business owners may face as their businesses grow. He can quickly help identify business owners and leaders' ways to improve productivity and achieve corporate goals. Fluent in English and in French, Yves is a graduate from the Université de Moncton with a bachelor's degree in applied science (Industrial Engineering) and a master's degree in Business Administration (MBA).
Gail Hickey is an energetic, passionate change maker. As an experienced professional her career has spanned the fields of Diversity and Inclusion, Employment Relations, Human Resources and Occupational Health and Safety. Her areas of expertise are gleaned from roles within Government, Non-Governmental Agencies and both the Mining and Oil and Gas Industries.
She currently holds the position of Skills Development Trainer with Vale Canada. In previous roles she has made an outstanding contribution to the lives of women working in skilled trades within the province of Newfoundland and Labrador. These accomplishments are highlighted by her roles as Founding Executive Director of the Office to Advance Women Apprentices and Lead Diversity Coordinator with the Hebron Topsides Project where she set about to change the male dominant work culture. She worked diligently to forge relationships with subcontractors, unions and community groups to surpass employment goals for women in construction trades. In recognition of this achievement she was presented with the Women of Distinction Award in the Business category from the YWCA. This prestigious award was in recognition of contributing to a thriving industry and the economic viability of our community.  The intuitiveness that Gail brings to her work has carried her thought many changes; her dedication to an equitable workforce has brought others for the cause of equal rights for women in trades. Change leader Al Etmansiki calls people like Gail Hickey "Wise Travelers". They recognize that the ways of the past no longer serve to tackle the challenges of the future: they tap into the passionate advocate in all of us paying close attention to the solutions. They are aware to new possibilities and understand that adversity turns into creativity when shared with an open heart.
Academically, she possesses a Master of Employment Relations, a Bachelor of Arts- Psychology major, Business minor, and certificates in Business and Literacy & Upgrading Training.
She currently holds board member positions nationally and provincially. She is a board member with the Income and Employment Appeal Board within the province of Newfoundland and Labrador and the National Canadian Centre for Language Benchmarks.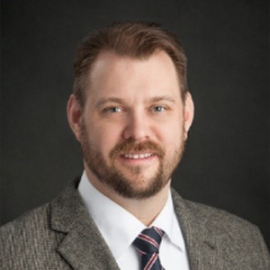 James Papple is an English for Academic Purposes Manager from York University, with 20 years of teaching experience to international and domestic students.
He graduated from Brock University with a Bachelor's in Linguistics and Psychology (1999), a Masters in TESOL (2007), and a Human Resource Management certificate from Niagara College (2008).
As Chair of TESL Ontario (2016-2017) he had the opportunity to network through the provincial community of practice, a role that he has carried on with TESOL International's Affiliate Network and Professional Council (2018-2021).  Currently, he sits on Program Advisory Committees for Niagara and Centennial College and is a founding member for TESL Ontario's College and University committee.
Over the course of his career, James has published three textbooks of EAP materials, the last two with Oxford University Press. Additionally, he has written and developed classroom and testing materials for publication and recently appeared as a guest blogger for TESL Ontario.
James also volunteers his time with Leadership Niagara, helping young entrepreneurs forge connections to Niagara's vibrant non-profit community.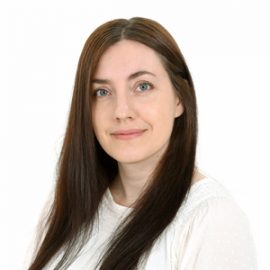 Jennifer Cummins has been working in the field of EAL instruction since 2007. In that time, she has worked in a variety of contexts, including private, non-profit, and public organizations. She has participated as a subject matter expert for both private and government organizations and has extensive experience in curriculum development, assessment, and quality assurance.
Jennifer's most current role is Assistant Department Head in the EAL department at Vancouver Community College in Vancouver, BC. Additionally, she volunteers as a Board Member for the CCLB, and sits on the board of BCTEAL as Board Secretary and Chair of the Membership Committee.
Jennifer has a Masters of Education in Educational Psychology from Simon Fraser University, as well as a leadership certificate through their continuing studies program. She has also received a post-graduate certificate in e-learning from the University of Calgary. Recently she was awarded the VCC research fund for two consecutive years to study faculty attitudes and behaviour in relation to plagiarism. Her professional interests include online and blended education, assessment, curriculum development, anti-oppressive pedagogy, and EDI.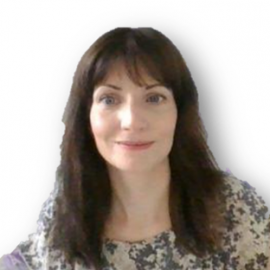 Naomi Frey (she/her/hers) is the Program Manager in the Extended Education division at the University of Manitoba in Winnipeg, Manitoba. Prior to her current role, she worked as a program manager for Red River College Polytech. She has more than two twenty years of experience in the fields of English Language Learning (ELL) and of language assessment in higher education in Canada and abroad. She has worked as a program manager, a quality assurance manager, an English language instructor, and an English language assessor. In her numerous roles, she has been responsible for program management, program delivery, curriculum development, teacher training, online/blended/HyFlex (hybrid) delivery, and research projects.
Naomi has knowledge and experience in working with a broad range of EAL (English as an Additional Language) learners, from literacy to internationally educated professionals, and has also worked closely with remote learners in rural communities in Manitoba with the challenges of accessing online learning. She is very committed to the accessibility of education for all (including newcomer children) in ELL classes. She is a former recipient of Red River College Polytech's BRAVO Award for being an employee of innovation, leadership, and professionalism in contributing to a culture of safety.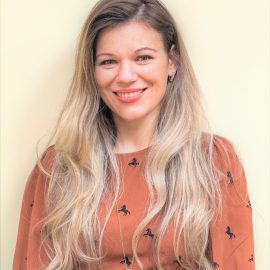 Oksana Timchenko is a language assessor with over 15 years of professional experience in ESL and language assessment fields.  Since 2009, she has been successfully trained and certified to administer various CLB assessment tools including the CLBA, CLBPT, LPT, CLBA-LL, ELTPA, WLA, Proctorless CLBPT and LPT, informal CLB-OSA, CLBPA, as well as the Milestones Speaking Assessment. Oksana is currently working as the Director at YMCA of the National Capital Region, Language Assessment and Referral Centre (LARC) in Ottawa, where, together with the senior management team, contributes significantly to the quality of service delivery and to the achievement of the program's goals and objectives.
With a previous Bachelor's Degree in Teaching English and German Languages, she pursued her calling in Canada and completed the TESL program at Algonquin College, where she later served on the TES/FL Advisory Committee for over 6 years. Oksana's passion for languages led her to pursue a Master's Degree in Linguistics with a focus on literacy and assessment. Her expertise and extensive hands on experience in the field of CLB assessment allowed her to share her knowledge and provide continuous support to the newly hired and well-established colleagues, community partners and clients, as well as contribute to various CCLB initiated projects, including the correlation study of the CLB and The Common European Framework of Reference for Languages (CEFR).
Throughout her professional career, Oksana has been working on establishing an effective work relationship with the federally and provincially funded language training providers, settlement agencies, and the community at large. Having worked extensively with multi-stakeholder groups for many years, Oksana has organized and participated in the Community Partnership Committee Meetings (CPC) / Réunion du Groupe d'Intervenants Francophone d'Ottawa (GIFO) where representatives from IRCC,  MLTSD and the language training providers offer their updates, discuss new trends and ways of moving forward in serving newcomers to Ottawa.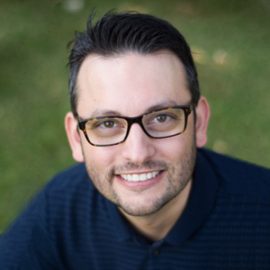 Ricardo Arisnabarreta is the Manager of Language Services at the Regina Open Door Society (RODS) in Saskatchewan. Ricardo has an undergraduate degree in English and in Spanish as a Second Language and an M.Ed. with research in the internationalization of higher education, language, and power. He is also a PhD student at the University of Regina and a sessional instructor of Spanish credit courses in the International Language department of the same university. His research interest is in the intersection of language, race, accent, and immigration, as well as in how they all affect the lived experiences of non-native English speakers.
Ricardo has significant work experience, which includes teaching and administrative roles. He has taught EFL (English as a Foreign Language), EAP (English as Academic Purposes), LINC, theory and methodology in second language acquisition, and standardized assessment classes. Ricardo has worked as a language assessor and taught at Saskatchewan Polytechnic and the University of Saskatchewan. Ricardo is a former Vice-President of TESL Saskatchewan and a former Chair of the Accreditation Committee, in which roles he spearheaded significant changes in accreditation processes and standards. Currently, Ricardo manages provincially and federally funded language programs at RODS, where he also helps instructors navigate the CLBs and the PBLA.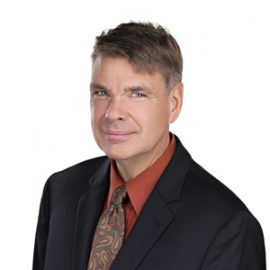 Stephen Abraham, now retired, was the Director of Examinations and the Chief Information Officer at the Medical Council of Canada. He is a seasoned executive with a professional career spanning a period of 35 years working in several sectors including assessment, education, insurance, software development, telecommunications, Information Technology consulting, streaming media, and broadcast television. He worked in several roles such as Software Developer, IT Director, Chief Technology Officer, Chief Information Officer, Business Unit Director, and Founder and CEO of an innovative startup. Board positions held include Director at the Queensway Carleton Hospital, an elected Board position on the Algonquin College Board of Governors, President of a local chapter of Heart and Stroke Foundation of Ontario, Director and Chair of the Ontario Council of College Chief Information Officers, Director of the Canadian Council of College CIOs, and Director of Programs of the Ottawa Chapter of the Chief Information Officer (CIO) Association of Canada.
Throughout his career, Stephen has been in continual pursuit of unique and innovative ways to use emerging technologies and best practices to improve organizational effectiveness and efficiency. With a passion for collaborative teamwork to create meaningful, positive change, he has led large-scale organizational transformations through the conception, development, introduction, and support of innovative systems and processes. He graduated Magna Cum Laude and on the Dean's Honour List with an Honours B.Sc in Computer Science (University of Ottawa). Believing in lifelong learning, he completed further studies in areas including Artificial Intelligence (MIT), Executive Management (McGill University), Executive Leadership (Queen's University), Financial Securities (Canadian Securities Institute), and Project Management (Project Management Institute).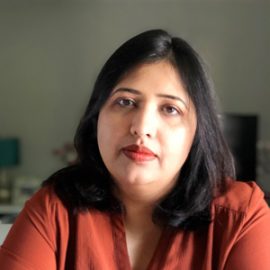 Tehreem Zafar works as Manager, Immigration and Settlement Services at YWCA Hamilton and oversees Settlement, Employment, Gender Based Violence and Violence Against Women (GBV&VAW), Community connections, and 2SLGBTQIA+ programming. Being an immigrant herself, she uses insights from her first-hand experience to remove the barriers immigrants face in different phases of settlement and integration, so when they look back, they consider it a success, not just a mere survival. Hence, from direct service delivery to management and advocacy on local and national levels, she has held numerous roles including Language Program Head, LINC Program Manager, LINC Coordinator, and Assistant Coordinator at Saskatchewan Intercultural Association and English Language Learning Supervisor at Newcomer Learning Centre, Hamilton Public Library. She has also taught LINC (Literacy – CLB 7), the ESL (University of Saskatchewan), and the Seniors ESL (Hamilton Public Library).
Tehreem has served on various committees, working groups, and boards. Being Director of the TESL Saskatchewan board, she volunteered as Chair of the Board's Communication Committee and is also a former member of Saskatchewan's advisory committee of Language Assessment and Referral Centre (LARC) and the province's settlement umbrella organization, Saskatchewan Association of Immigrant Settlement and Integration Agencies (SAISIA). Currently, in Hamilton, she sits on Hamilton Immigration Partnership Council, HIPC's Social Inclusion and Community Engagement Committee and is part of the Afghan Settlement Task Force and the Ukrainian Working Group. She has a master's degree in English Language and Literature, a B.A. in Economics, a Certificate in TESL (University of Saskatchewan), a Certificate in LearnIT2Teach Stage 3, and a Certificate in Language Program Management (London Language Institute). As an Ontario Certified English Language Teacher (OCELT), she has TESL Ontario Certificate of Accreditation for Adult ESL Teachers and International Certificate in Teaching English as an Additional Language (ICTEAL).
Tehreem is blessed to be the mother of two awesome boys, Mohammad and Haider. They are the source of joy in her life. When Tehreem is not busy working, she can be found decorating her home, reading a book, or making a floral arrangement. This makes her relaxed and refreshed to start another day or week with new energy.