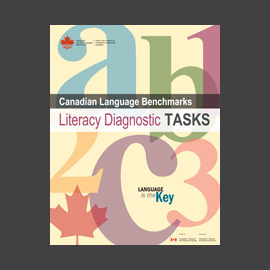 (e-version ISBN: 978-1-897100-83-7)
The Canadian Language Benchmarks Literacy Diagnostic Tasks (CLB-LDT) are intended to be used by classroom instructors to determine the current skills and abilities of their English as a Second Language (ESL) adult literacy learners. These tasks can help instructors identify gaps in knowledge, skills and strategies in order to design lesson plans that target specific needs.
The diagnostic tasks included in this resource reference the strands that are described on the continua for reading and writing in the Canadian Language Benchmarks: ESL for Adult Literacy Learners (ALL) document. Instructors can use the observation checklists provided with the tasks to identify at what degree learners are consistently performing across some of the strands.
* It is important to note that these tasks are not suitable for making placement or progress decisions and do not indicate whether a learner is at PFL, FL, 1L, 2L, 3L or 4L. Placement levels are determined by secure literacy referenced assessments administered in assessment centres, and progress levels are determined by the Portfolio Based Language Assessment (PBLA) process.
---
---
---